Music School Jacksonville FL
       Professionalism, discipline, dedication and  quality are the basis of our success!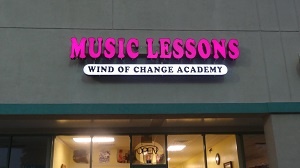 Why Choose Music School Wind of Change Academy?
We offer to our students great selection of Music Lessons and Teachers, where everybody can have an instructor who perfectly matches their personality and way of learning

We teach Piano, Voice, Guitar, Ukulele, Banjo, Violin, Bass Guitar, Drums, Flute, Clarinet, Saxophone, Trumpet, Trombone. Classes are individual one-on-one sessions. We also have classes designed for 2 (great for couples, parents and children, grandparents and children, friends and etc.)

We teach children and adults
We offer FREE try-out

We offer most convenient schedule, where our students can have lessons any day from Monday to Sunday! We open for appointments from 7.00 am to 9.00 pm and offering morning, afternoon and evening classes

We do NOT close for Summer and we KEEP our regular private lessons all year around  (we don't do camps)
You can TEXT us instead of calling if you prefer at any time of the day non business hours included
We offer MAKE UP classes (with 24hour notice) and it NEVER expires
We offer Family, Multi-Class and Military Discounts
We give out Great Prizes as a practicing reward
We have Referral program and give Money Credit for it
 There is NO contract and NO registration fee. Month to month payments
If your family takes several different lessons, you can be sure that it will be scheduled for your most convenience. For instance: at the same time (different students from the same family) or back to back (different classes for the same student)
We have a long-standing  reputation of excellence with long-term students and teachers
 

Make sure to take advantage of our Military and Family Discounts as well as of Free Try-Out!

Please, text us or call if you have any questions:

(904) 477 1552

WE ARE OPEN ALL

7 DAYS A WEEK!

We offer:

MORNING, AFTERNOON AND EVENING APPOINTMENTS

 MOST POPULAR: $100 PER MONTH get 30 MIN ONES A WEEK!
Wind of Change Story from First Coast Magazine
How Music brought Yana Weaver to America from First Coast Magazine
Wind of Change is not only a company name, but a Russian saying meaning education, or music, bring good change. Yana Weaver, the owner of Wind of Change, said that this saying helped motivate her through the years, and it is now something she passes down to her fellow teachers and students.
Yana was born in the industrial city of Tula, Russia, the hometown of world-renown author Leo Tolstoy. Yana said she doesn't remember a time she was not playing the piano. From the age of five, Yana learned how to play the piano and fell in love with the instrument. She remembers listening to composers Rachmaninoff and Tchaikovsky, and taking inspiration from their music.
At the age of 19, Yana took on her first student while studying music in college. During her four-month stay in America as an exchange student, Yana started teaching a few students piano and felt like this was where she was meant to be.
She moved to Jacksonville, a year after moving to Ft. Lauderdale from Russia, because of her husband's job, and gathered so many new students she had to hire her first teacher. Students then started asking about learning instruments other than piano, so she had to look for teachers of other instruments.
Now, just a year after opening their new studio, Wind of Change has 17 teachers who teach students piano, voice, guitar, drums and a number of other instruments.
Kindness is the key to Yana's success. She says that you should always treat people how you want to be treated and that can make both the teachers and students happy. She wants the students to look back at their time at Wind of Change and cherish those special memories.
Wind of Change Academy offers largest selection of music lessons. Follow the link to found out more about our Music Lessons.
For our prices go here: Music Lessons Prices
How to start:
1. You pick  the class (instrument or voice) you want to try.
2. You schedule (via phone, text or e-mail)  your Free try-out lesson to see if you like it first.
3. If you like it, you pay for the month. If you start not at the beginning of the month, the price will be prorated.
4. We have books you can purchase at our location.
5. We have instruments for rent $1 a day for you to take home if you need it for several weeks or so.
How to contact us:
You can call : (904) 477 1552 or e-mail us if you have any questions or would like to schedule your try-out lesson. You can also stop by our location at 14180 Beach Blvd (West of San Pablo).
Piano Lessons for 3 year old        Contact Us         LaVilla  Auditions Training       Piano Lessons for Adults